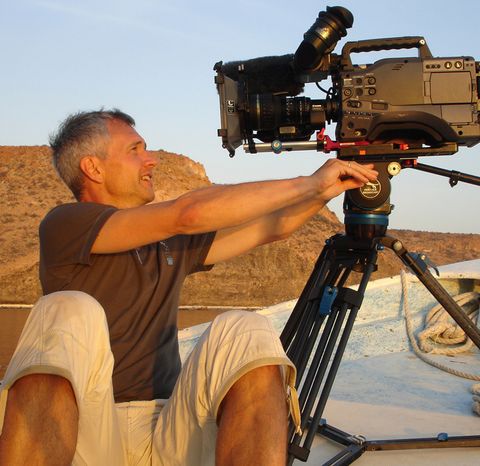 Thomas Riedelsheimer
Born September 1963; studied at the Academy for Film and Television in Munich (1984-1991); since 1986 free-lance author, director and cameraman in Germany and abroad (Somalia, Tanzania, South Africa, New Zealand, Latvia, Russia, Tibet, Nepal, Japan, Canada, Scotland, India, Georgia, etc.); lecturer at seminars on cinematography and documentary film making; camera work with 16mm, S16mm and 35mm, as well as with all video formats.
Until 2008 partner in Filmquadrat, a film production platform with Stefan Tolz and Thomas Wartmann. In 2008 Thomas Riedelsheimer and Stefan Tolz founded the production company Filmpunkt GmbH. Since October 2007 he is teaching regularly at Filmakademie Ludwigsburg.
Thomas Riedelsheimer lives in Munich, is married and has two children. He is a member of the German and European Film Accademy.
He has several major national and international film and television awards for directing as well as for editing and camerawork and several nominations for the official section of international festivals.
Work in progress (director, DoP, editor)
"Breathing Earth – Susumu Shingu Working With the Wind (WT)"
D/Scotland, 90min Super 16mm, Filmpunkt GmbH
Credits as Director, Director of Photography, Editor (selection)
"Jardin en el Mar"– Cristina Iglesias
Mexico/D, 68min, DVCPro HD, Fundea, Mexico with Filmquadrat.art
Seelenvögel ("Soul Birds") Pauline, Lenni und Richard
D 2009, 90min, DVCPro HD, WDR and BKM
"Alison Watt – A Painter´s Eye"
Scotland 2008, 30min, DVCPro HD, Skyline Ltd, Edinburgh for the BBC
"Touch the Sound – A Sound Journey with Evelyn Glennie"
D/UK 2004, 98 min, col., 35mm (S16mm); Prod: Filmquadrat with Skyline Productions for BR,ARTE, YLE, FFF, FFA, BKM, NW and Scottish Screen, International theatrical and TV release
"Beyond the Horizon – Timbuktu and the Delta of the Niger"
D/UK 2003, 2x43min, col., Digi Beta; Prod: Filmquadrat GbR for BR
"Rivers and Tides - Andy Goldsworthy Working With Time"
D/UK 2000, 90 min, col., S16mm, director, camera; Prod: Mediopolis, Co-Prod: Skyline Productions for ARTE, YLE, FFF, Filmboard Berlin and Scottish Screen, International theatrical and TV release.
"Metamorphoses (Metamorphosen) - Three Encounters with Death"
D 1997/98, 45 and 93 min, col., Digi Beta 16:9, ZDF and 3 Sat
"Lhasa and the spirit of Tibet (Lhasa und der Geist Tibets)"
D 1996/97, 60 min, col., Digi Beta 16:9, BR
"Floating means Love" ("Schweben heißt Lieben") - Three People Beyond Normality
D 1994, 80min, col., 16mm, ARTE, ZDF "Das kleine Fernsehspiel", 3Sat
"Government on Air – The Staging of a World Economic Summit"
D 1992, 63min, sw, 16mm, in collaboration with M. Beger & M. Schwerbrock, ZDF, 3Sat
"The Brides of Christ (Sponsae Christi) -The Lives and Views of Three YoungOrdained Nuns"
D 1991/92, 68min, col., 16mm, ZDF "Das kl. Fernsehspiel"
"You will shoot then" ("Dann werden Sie schon schießen...") - Three Months of Basic Training in the National Army
D, 1988/89, 60min, col, Highband
Awards
2005 German Filmprize "Lola" Best Sound Design
2004 BAFTA Award Scotland (British Academy for Film and TV)
2004 Golden Dove Leipzig
2004 Prix Semaine de la Critique Locarno
2003 2 x German Filmprize "Lola - Best Camera¬ and Best Documentary
2003 Best Documentary, San Diego Critics Circle
2002 Best Dokumentary, German Film Critics Association
2002 Best Documentary, San Francisco Critics Circle
2002 Goldaen Gate Award and Grand Prize, San Francisco
2002 Grand Prix, Montreal FIFA
2001 German Camera Prize1998 Film Award, Munich
1993 German Video Art Award1993 Adolf-Grimme Gold Award (Best Documentary on German TV)
Selection of Festivals
Locarno, Berlinale, San Francisco, Toronto, Ghent, Rotterdam, Hongkong, Sydney, Cork, Edinburgh, New York Tribeca, New York Brooklyn, Vancouver, Montreal New Films, Montreal Art Films, Palm Springs, Mexico, Thessaloniki, Leipzig, Graz, Viennale, Göteborg, Magnificent Seven Beograd